Description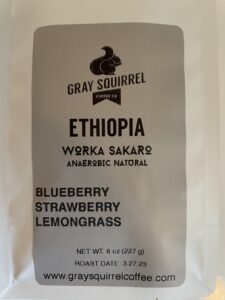 All products are for pick up on our farm stand (1733 Mount Carmel Church Road Chapel Hill, NC 27517) or delivery with your next CSA share.
Tasting Notes: Blueberry, Strawberry, Lemongrass
Origin: Gedeb, Gedeo Zone, Ethiopia
Process: Anaerobic Natural
What the heck is anaerobic processing? It's all about fermentation. Normally, coffee cherries are left to ferment out in the open, where the yeast get to work converting sugars to all the complex flavors we love in our coffee. But it turns out that if you ferment the cherries in an anaerobic environment (that is, in a vessel with no oxygen), fermentation goes much more slowly, and you end up with a totally different spectrum of flavors. Nerdy cool, right?
This particular coffee comes from the Worka Sakaro Washing Station in Ethiopia, which serves more than 400 smallholder farmers growing coffee on steep mountain slopes in the Gedeo Zone. That anaerobic natural processing we were talking about results in a cup that is a real treat, with complex fruit notes that continue to change as it cools. Sip slowly and enjoy the flavors of blueberry, strawberry, and sweet lemongrass.